#dolcegustomalaysia

First, I tell you all about what is
Nescafe Dolce Gusto Piccolo
?
The
Piccolo
is the smallest in the
Dolce Gusto
of the coffee machines. It is very modern art of Coffee Art, can be suitable to use at home or office! It also have 15-bar pressure - it's one way only, to make the brewing process lets you brew a cup right when you love to feel a great tasting coffee while you are using the Piccolo. It also provide the cold and hot water very quickly with the 15-bar pressurized pump to speed up the brewing. With the
Nescafe Dolce Gusto
Piccolo
coffee machine, you get a fresh cup of coffee in short minute only, mean you can enjoy anytime, everyday.
Nescafe Dolce Gusto Piccolo
looks great and slim, but it also can create a very warm coffee with thermoblock and 15-bar pressure to make a high quality of coffee so well. It is no mess and no difficult to use - simply control the brew lever so manually, and you can see the cold (blue) and hot (red) at the brew lever, which you just move right or left, then you stop at middle only, if you want to stop brew, right!
You love a very beautiful design of collectible tin? If you want a special limited edition, then you make pre-order on this
Nescafe Dolce Gusto Piccolo
Coffee Machine from
Lazada Malaysia,
you will get a
FREE 16 Capsules Limited Edition Collectible Tin
, valid for the first 500 purchases only!
This kind of small coffee machine can have different flavour like Chocolate, Tea, Iced Cappuccino, Milky, or Black coffee....Mean you free to drink coffee, or tea or chocolate as well. There are around 16 cafe style varieties with hot or cold drink, which you can choose from, you'll wonder how you ever coped without it.
With the
NESCAFE Dolce Gusto Piccolo
, just use 3 simple steps. Just push a button and move the brew level, it works manually. Easy and Simple.
1. Pop in a pod
2. Move the lever to hot or cold
3. Stop the water when you're ready
For Black cups: Each box makes 16 cups. It's RM29.90
For White cups: Each box makes 8 cups. It's RM31.69
The
NESCAFE Dolce Gusto Piccolo
comes with a free starter pack of 6 different pods, so that you can try our drinks as soon as you get your machine home, when you get
NESCAFE Dolce Gusto Piccolo
's package box.
How to Use it so Easily
It's extremely easy to use. You put it in a pot, push a few buttons, and you have your coffee ready.
2. You add water in the water tray. Then, you install the water tray inside this machine.
3. You push the Power button, and within 2 minutes. You will have the heater ready.
4. You then put in the coffee pod, or two (if what you're making contains milk),
5. Then you just put the glass or cup underneath
Lastly, you'll have your coffee ready!
This
Nescafe Dolce Gusto
Piccolo
have the Manual version, you have to push a lever to either the Hot or Cold side, and the amount of beverage that will come out as it depends on how long you push the lever, so you have full control of the coffee making process and its taste. It make you be good barista!
Depend to Your Preferance of Flavour
, you can make Ice Tea, Chai Tea Latte, Chococino, Mocha, many different types of Espresso, like Decaf, Barista, Ristretto, Intenso. You can even have Skinny Lattes or Cappuccino, Macchiato, or simply some Americano or espresso without sweet, whether it is a cold drink or a hot drink, that's up to you. You'll definitely have the type you like!
Why should I buy a Nescafe Dolce Gusto Piccolo coffee machine?
Firstly, they are a very affordable way to enjoy excellent tasting coffee and are far cheaper than heavy espresso machines and other brand of coffee machines. It is easy to carry to any place, such as kitchen, or living room or dining room.
Be honest, it is small and compact, are designed to fit on any space; in home or kitchen or office without being messy or heavy. They look modern and cool, have fast water heaters and a very easy user interface. They also have the improved of huge water tank, 0.6 liter too. It also have energy save mode, mean it can be auto-off if you never use after 5 minutes only! Cool. The Pod holder magnet is strong to hold so great.
Better is that it's not limited to coffee, you can also get a wide range of teas and hot chocolates in pod form too! For example, simple espresso, latte and cappuccino, or chocolate caramel, caramel latte macchiato, vanilla latte, mocha, chai tea latte and more! You're bound to find a coffee or hot chocolate that you love.
Maybe you can do recipe of tea or coffee can be decorate as impressive with lemon, and chocolate, peach, herbal and more. It is good to make a very beautiful coffee/ tea drink to welcome the visitors too.
Great. It's highly recommended to wake up your eyes when you make your favorite of flavor with
Nescafe Dolce Gusto
Piccolo
! After all, the benefits you are getting are much more than the disadvantages.
Are Nescafe Dolce Gusto coffee capsules in the bundle box are available in Malaysia?
Yes, there are also many variety packs available so, you can found it at any supermarket, such as Giant or Tesco or any shopping mall in anywhere. All worldwide already have it so ready! Or you can access to shopping Lazada Online at
http://www.lazada.com.my/nescafe-dolce-gusto/nestle-malaysia/
WHERE to BUY Nescafe Dolce Gusto Piccolo Coffee Machine?
Nescafe Dolce Gusto Piccolo
Coffee Machine is an online exclusive model on Lazada Malaysia - you can visit at
http://lazada.com.my/nescafe-dolce-gusto-piccolo
Preorder online exclusive model period: 21st - 30th April
- Manual with mechanical lever
- Customize your coffee's strength and mixture (for multi-capsule drinks). It also lets you alternate between hot and cold beverages in an instant
- Height adjustable Drip Tray with stainless steel grid for any size cups and glasses
- Dishwasher safe/proof Capsule Holder
- 15-bar maximal pressure Professional Standard Pump
- Removable water tank (21 fl.oz.) (Non-Dishwasher Safe)
- Aluminum Thermoblock, no pre-heating, no waiting
- Wattage 1500W
- Machine Size 11.3(H) x 6.26(W) x 8.66(L) in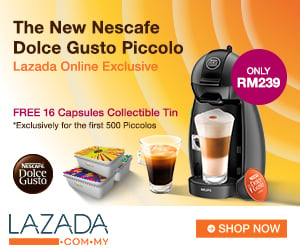 Good news for you all and my readers,